Art Police | Awards | Bugsters | Credits | Déjà Vu | East of Hope Street | Eye of the Beholder | Highwayman | iCarly | Music | Roddenberry on Patrol | Samantha Who | Story by Amy Niles | Trust Me| Voyager
iCarly
NEW: Part 1 of season 1 is out on DVD by now!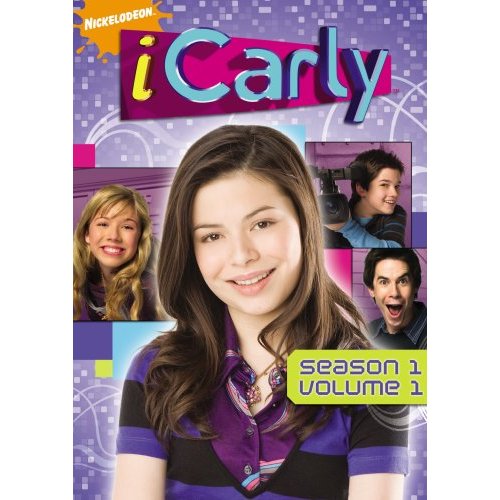 Tim has a recurring part on the Nickelodeon series "iCarly". This show is about a young girl who is producing a web-cast talent show with her friends Samantha and Freddie. She lives with her older brother, who is an artist. Tim plays the Principal of the school she is attending. The regular cast of the show consists of the following four characters:
Carly Shay: Miranda Cosgrove
Spencer Shay, her brother: Jerry Trainor
Samantha Puckett: Jeannette McCurdy
Freddie Benson: Nathan Kress
iPilot
Tim's first appearance on the show was in the pilot. And what an impressive debute it was! Now imagine: This is a new series, the first episode ever that gets shown, the very first scene, and what do you see? Or better, who? Yep, that's right. It starts with the School Principal laughing hysterically at a picture - one teacher's head photoshopped onto a rhinoceros. Apparently Carly did this, which is why she is brought in by the offended teacher, Ms. Briggs. Carly does get punished, even though we later find out it wasn't her but her friend Sam who did it. As to the School Principal, he obviously shares the kids' sense of humor. But he is not that good at biology - he thinks that animal is a hippopotamus! Here are a few pictures from this "fascinating" opening scene of the pilot. (all pics on this page are © Nickelodeon, no copyright infringement is intended! I made those screen caps myself, they are thumbnails).
ep. 1.12 "iPromise Not To Tell"
We learn that Principal Franklin's first name is Ted, and he therefore uses "Big Teddy" as user name for his access to the school computer. The password is "corn cake 21". He also does not like to sit in the office with a stain on his tie (he spilled syrup on it!), but has no clue how to remove it. He does expect female teachers do have such knowledge, though. He is very pleased with the 1100 W microwave oven that Carly and Freddie turn into a surprise birthday present for him. When Carly later confesses why she and Freddy accessed the school's computer, his first reaction is fear that he might have to give back the microwave. But the kids let him keep it and therefore get off the hook easily. Only Sam gets detention again...
ep. 1.19 "iGot Detention"
In this episode we learn that Principal Franklin has kids and that he likes to watch the iCarly-web show with them. His family seems to like donuts, since he promises on the phone to buy some on the way home. His cell-phone is the very special "pear-phone" and virtually indestructible. Despite the fact that the teacher Mr. Howard does seem to have a rather low opinion of the good principal, the latter knows very well how to deal with the children-hating teacher and he is able to make Mr. Howard respect him.